The colors of autumn are a reminder that although it is  assuredly a painters paradise.. the OPEN STUDIO weekend has arrived!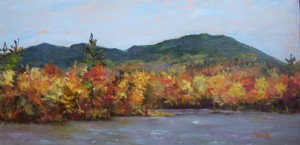 Location #1  on this years Dublin Art Tour will be my own Early Sunrise Studio, the working space of Alicia Drakiotes Fine Art in Marlborough, NH.
Art Tour Maps can be downloaded at :  http://www.monadnockart.org/art-tour.php
A true working studio visitors this year will get to see the first pieces of Functional Art painted tables & chairs that I have incorporated into my 2D works.  Larger format paintings and traditional small format framed works will also be on display.
Looking  forward to meeting many new art friends on this years annual tour.   Remember to look for the #1  Art Tour  signs in Marlborough, NH!