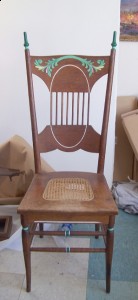 Functional Art –  Who would have guessed that this process could help break a block in my creative cycle?
Not I , that is for sure.  Deadlines for exhibitions, time constraints, lesson planning, demonstrations,  after a fashion these restrictions for me, tend to block the creative process and make painting more a chore adn less of a spiritual and exciting process.
As the boundaries closed around me, I turned and looked for an outlet, a pause , an escape from the moment.  I spied an oak chair, or two.  Pieces form an auction years ago that were waiting for "something" to happen.  And these pieces have become the beginning of FUNCTIONAL ART – a side venue from my 2 dimensional works.
"Floral Simplicity" , shown above, is a charming solid oak pressed back chair that I re birthed with color and design.  Sporting a pristine caned seat it has been polyurethane coated to provide a long life when used as a functional piece or as a decorative accent.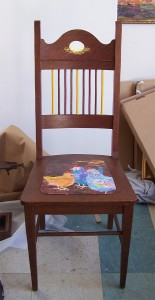 "Which Came First"  offered a more painterly completion and allowed a greater play with color, actually instilling a feeling of accomplishment when it was assembled.
Adding my painting skills to a 3 dimensional piece was a challenge, but as they say when there is a challenge the completion is the reward.   These wonderful side ventures have left me ready to leap back into the works at hand to fulfill my exhibition deadlines.  Meanwhile until they find a home to travel to, they are adding some extra sparkle and rural charm to the studio gallery space!
I admit, I had FUN with FUNCTIONAL ART!