Summer seemed so long ago… and here I am in the midst of exhibitions and art festivals! Where did the time go?
This year I was again juried into the Beacon Hill Artwalk in Boston,MA., and have hung the first of three major exhibitions. Currently "A Painters Journey " is at the Hannah Grimes Center, 25 Roxbury St in Keene, NH . Hours for viewing are M-F 9 AM – 5PM.
I have 31 works including a grand painting measuring 3 ft high x 4 ft long. Please stop in if you can.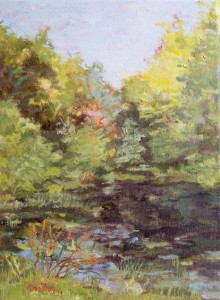 I am already starting my art festival lineup with Beacon HIll Artwalk beginning June 2nd where I will again be located on West Cedar St in the quaint Beacon HIll neighborhiood. Before that outdoor event however, 'Rust Buckets and Tin Cans" a joint exhibit with fellow artists Louise Parmenter Hammerman and Brad Willard will open in the Auditorium Gallery at Jaffrey Civic Ctr, 40 Main St, Jaffrey,NH. Please mark your calendars and join us from 5-7 PM on May 31st, 2013 for the opening where the Iron Carriage will be honored and celebrated! This great exhibit will run through June 29th so you will have ample time to view it if you should miss the opening
The following event is "64 MILES: The Ashuelot River" a group exhibition which will be exhibitied at the Historical Society of Cheshire Cty, Main St, Keene,NH. This exciting venue will feature an exhibit depicting the river in entirety form the beginnings in Washington, NH to where it merges at the Connecticut River in Hinsdale, NH. You won't want to miss this! It will be open to the public for viewing during regular business hours from July 19- Sept 30, 2013.
This is certainly a busy, busy time. Not to forget the Keene Art in the Park event which this year will be on Aug 31 and Sept 1 in the beautifl Ashuelot River Park off West ST in Keene,NH. I will be in my usual location #56 on the east side of the park, please look for me! I plan to be working at the easel as well as trending my exhibit under my tent!
I am not one to wish time to pass quickly but I am looking ahead to the warm days of en plein air painting where i submerge myself in the beauty of the aea interpreting the colors of the landscape! Oh yes, lets not forget there is some exterior painting that needs to be done on the building as well… somehow it will need to get done, I guess I will be trading one brush for another!